We've had a busy day here. Some cleaning and laundry, taking my daughter to dance class, then tonight we all went out to a local steakhouse and shopping at Target. I did sneak in a little bit of time to work on Angel's sketches.
Here's
sketch 7
. One of those that totally didn't turn out like I envisioned it. Oh well.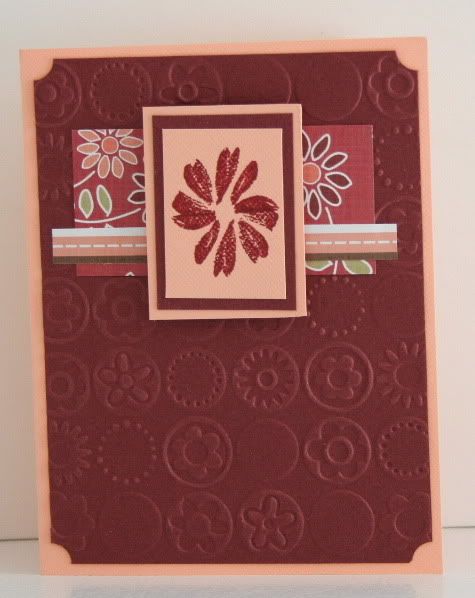 On to
Sketch 8
. This is for a co-worker who is getting married in a couple of weeks. I was dying to use my new Webster's Pages patterned paper so the colors are a little non-traditional. But it's the second marriage for both of them, and I think the brown, blue, and ivory combo has a definite elegance to it. I did learn a lesson though. This was the first time I'd tried emboss resist using Bazzill textured cardstock. Even though I wiped it with my dryer sheet (the poor man's Embossing Buddy), you can see that some of the clear embossing powder was still on places that weren't stamped with Versamark. I probably should have used the backside (flatside) of the cardstock instead. I hope she likes it anyway.