What a bad blogger I've been! We've been working on getting back in our school routine this week. It's going great! But definitely an adjustment after the lazy days of summer.
I did find time last night to work with
Sketch #32 at 52 Sketches...52 Weeks
.
I'll be spending what spare time I can find this weekend trying to finish up the gift album since my niece leaves for college in just a few more days. I found out about an online crop at
Scrap Attack Scrapbooking
.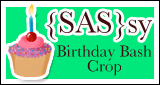 What a friendly bunch of scrappers! And some great challenges (and awesome prizes) to keep me motivated! You should come join in the fun on the message board! Here's another LO I did for a challenge over there.