I have spent a portion of Clark's naptime working on a card for
Beate's Sketch #38
. I haven't found time lately to work with many of her weekly sketches, and I was starting to get grumpy about it. Last night I ran across this Rusty Pickle Chocolate Bunnies paper I bought after Easter last year, and decided to finally cut into it! I rotated the sketch, and there is no stamping on this card except the sentiment inside.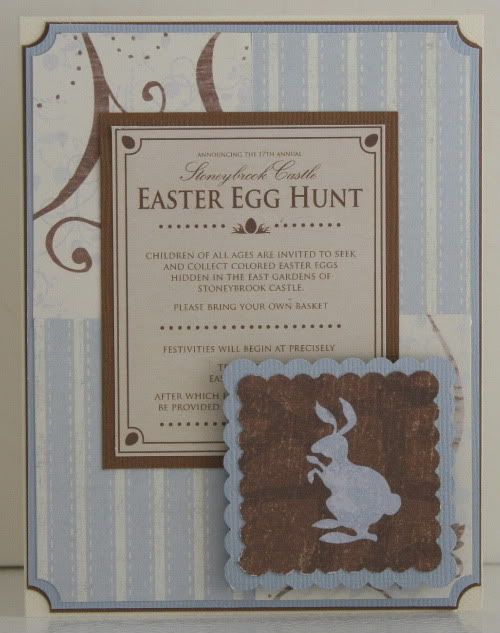 I was ready to take a picture to upload when my 6 yr. old asked if she could make a card for her Floridian penpal who is owed a long overdue letter. Addison picked out which papers and ink color to use. She also insisted that we use the ticket corner punch on the background paper and that the other papers be adhered with pop-dots! I really think I've been out-carded today!!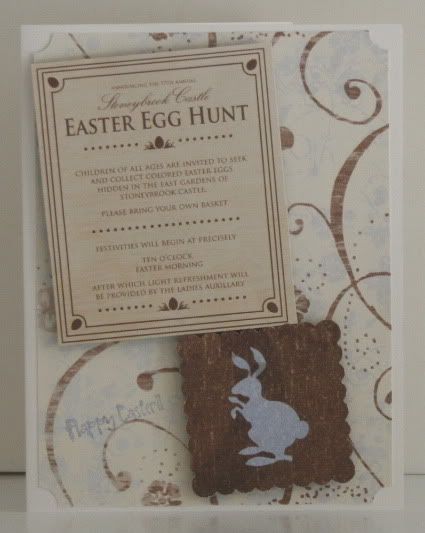 I'm heading back to my papers and stamps to finish up some swap cards that absolutely HAVE to be mailed tomorrow. But it's all good! I've got the television tuned to a pre-season Cubs game. Can you believe it's almost baseball season already??? C'mon Spring!